End Of School Flowers From Serenata Flowers
End of School flowers as school term starts to draw to a close, it`s a final chance to say thank you to all the wonderful teachers who do a fantastic job of educating our darling children.So show your appreciation by sending one of our stunning bouquets designed especially with that special teacher in mind.
Tequila Sunrise
Hola! Celebrate any auspicious occasion with a golden burst of sunflowers, roses and lemon-fresh buds. The intoxicating glow of this sumptuous hand-tie is sure to get you in the mood to party. Yeehah to yellow!
Was £49.99 Now £39.99
A Dozen Pink Roses Giftwrap

A dozen pink blushing roses for your blushing sweetheart.
Was £24.99 Now £19.99
Camelot

Travel into the world of legend where colourful pennants flutter in the breeze and trumpets of alstroemeria lilies herald the return of the King and his companions.
Our Price £9.99
Prince of Cambridge

A bouquet fit for a prince! To celebrate the new royal baby, we've created our special own new arrival. With Scottish thistles and English roses it's something else Britain can be proud of!
Our Price £39.99
Mrs Tracy Klein
An inspirational mix of magical mauve's, pretty pinks, perky purples and luscious lilacs make up this beautiful bouquet that is Mrs Tracy Klein
Was £34.99 Now £29.99
Sugar and Spice

Everything nice comes together in this sweet mix of candy pink gerbera daisies, classic white daisies and scrummy pink alstromeria lilies.
Our Price £19.99
Secret Garden

Unlock the magic of your own secret garden where flamboyant pink roses climb the walls and the perfume of white lilies fills the air.Our Price £24.99
Adore

Send sweet candy kisses to your sweetheart this valentine's day with a delectable combination of pink and red roses – What could be more romantic?
Was £24.99 Now £19.99
Friendship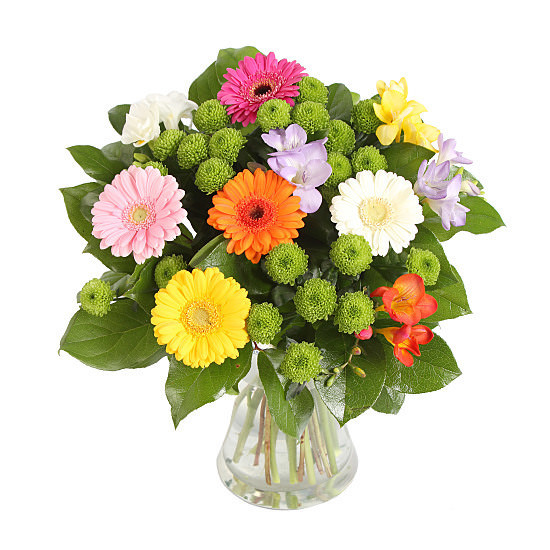 Sometimes you just want to let your friends know just how much they mean to you, and this bright bouquet of multi-coloured Germini and scented Freesias can do just that. Bursting with scent and colour it's a big hug just waiting to happen!
Was £34.99 Now £29.99
Scented Pleasure

There will be no 'he loves me, he loves me not' with this bouquet of freshly scented daisy mums and orange lilies – every petal will scream out 'he loves you!' (We've even added some sunset-orange alstromeria so that you can ride off into the sunset together… aren't we thoughtful?)
Our Price £19.99